Managing a school system budget is never easy. Communities all throughout Indiana want to give their children safe places to learn and play. But even navigating the operational costs, let alone the education budget, can be especially problematic. So when it comes time to upgrade certain buildings, looking at the facilities' lighting options is often a great place to start.
The energy bills for having well-lit parking lots, classrooms, and large gymnasiums can add up fast. Fortunately, replacing the lightbulbs can start lowering the month-to-month and annual expenses right away. There are plenty of new solutions to help school corporations get more energy-efficient. Switching to LED lights offers the best of both worlds. You don't just get bright spaces—you'll give your community a huge boost in savings too!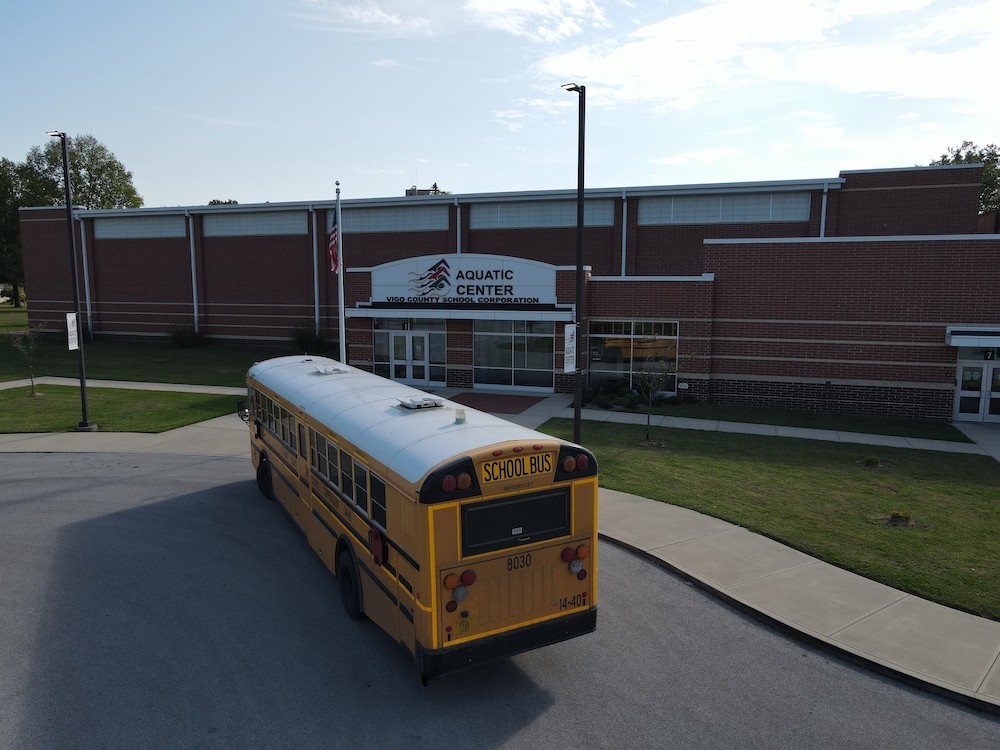 About Vigo County, Indiana
Compared to other areas in the state, Vigo County has a unique setup. The school corporation actually serves the whole county. There aren't separate systems for each city, so they end up having more than 30 school buildings spread all throughout the county. One of the latest facilities is their state-of-the-art aquatic center.
The Vigo County School Corporation Aquatic Center officially opened in January 2016. Because the smaller pools at each of the county's three high schools were failing, the goal of the project was to replace them with one centrally-located facility that all of the swim teams could use.
Now, it's the hub for all of the community's aquatic activities. Vigo County has a Swim by 7 Program to all of the Kindergarten classes in their school system and offers set hours for Adult Lap Swimming that are open to the public.
Because the facility is used year-round, it's been important to find long-term solutions for keeping the operational expenses as low as possible. Eventually, the solution became clear. They needed to rethink the current lighting setup and consider the benefits of installing LEDs.
A Better Budget for Everyone
Ryan Carter runs the maintenance department for the Vigo County School Corporation. He also serves as the energy manager. A main focus for him today is to help identify ways to save the corporation money. And since he's worked in just about every role for the department—from landscaping, to assistant carpenter, electrician, and more—he truly has a big-picture perspective on their budget.
"We really try to treat the school corporation money like it's our own," said Carter. "Because really, it is our money. It's our tax money. So we want to do the best for our staff and teachers and get a better learning environment for everyone."
Carter has always had a pretty good understanding of how they might be able to continue improving their operations from year to year. That's also why he knew the move to energy-efficient lighting would be so effective for the long-term, stating that their "biggest savings so far will probably be LED lights."
Of course, those upgrades would require a new way of doing things. One of their solutions for staying budget-conscious over the years is to complete most of their projects in-house. Carter has a maintenance staff of around 25, and they usually have enough combined expertise to address repairs and new installations.
When it came to their large LED projects, though, he knew they'd need to take another approach. Working with an outside company would be critical because of the scope. But first, he wanted to make sure he was making the best decision about the actual types of lights his facilities would be using.
Research to Find the Best LED Lights
Carter spent about 5 years researching LED lights before really getting things underway. After all, he was thinking about the long-game. His goal was to pick the right product for all 30 of the buildings in their county, and he knew that starting with the aquatic center would make one of the greatest impacts on their bottom line.
"This is on such a big scale," said Carter. "To actually settle on just one thing to go with, we needed to do as much research as possible."
Moreover, the complexity of upgrading each building meant they needed someone else to do the installation. There were multiple meetings over the years with several different companies. They still have a handful of single LED fixtures and styles that were sent to them to try out. After seeing the lighting output and how they looked in general, one solution stood out.
He ultimately decided that LED Indy was the right partner for the job. He liked the products the best. Plus, the team was easy to work with right out of the gate.
How Did LED Indy Stand Out?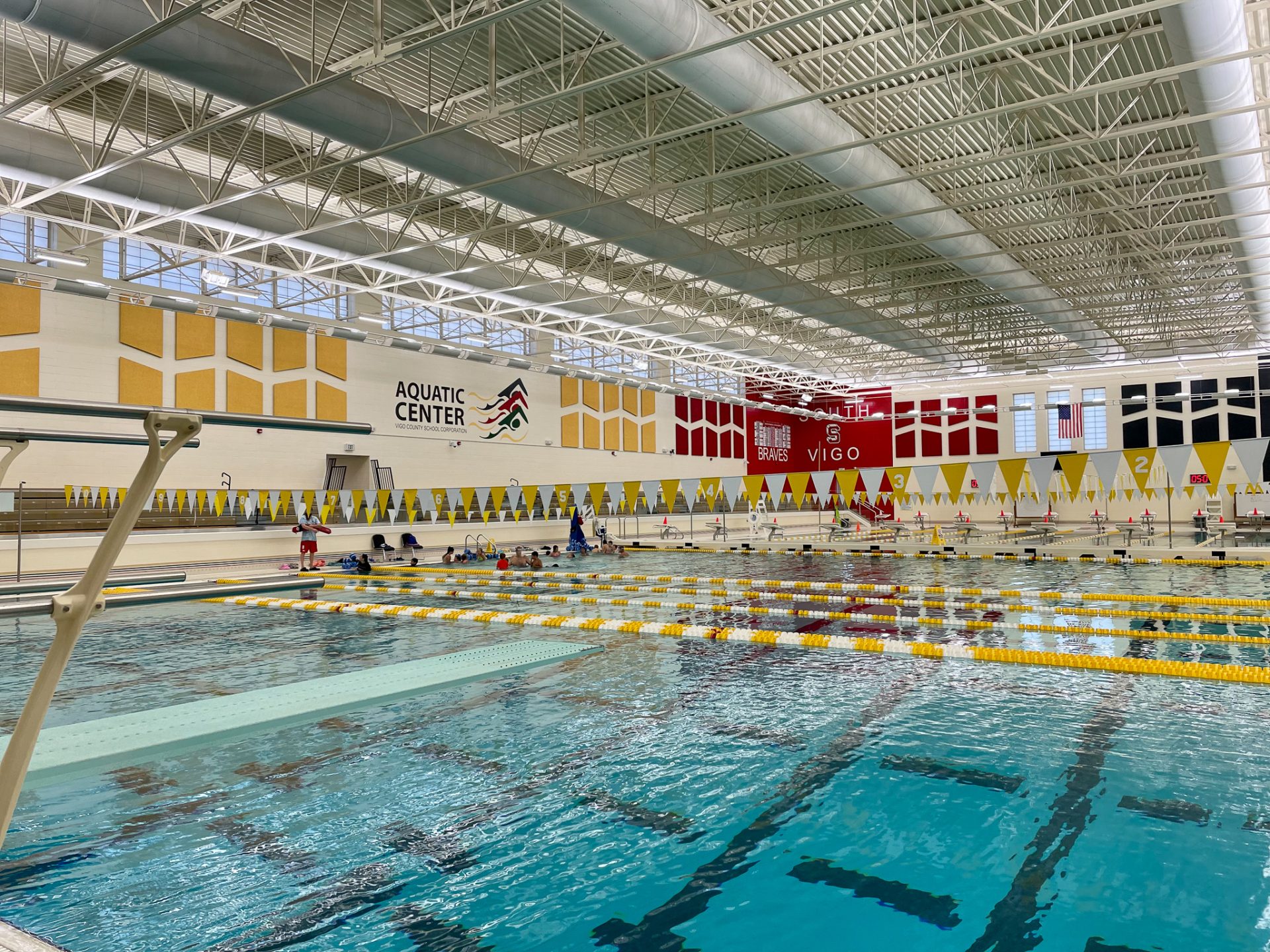 After he made his choice, Carter knew there was no going back. Consistency across the county's school buildings was crucial, and that included classroom settings, not just the LEDs for the aquatic center. The costs obviously mattered with his decision, but there were plenty of other factors in play too. By analyzing the features from every aspect, he knew for certain that LED Indy chose a good lighting product.
"LED Indy introduced to us a light that resembles another company's light that's sold here locally," said Carter. "So we started looking at every square inch of the fixtures and how they're put together."
He even considered the weight and the size of the lights. Because the aquatic facility was starting with such huge fixtures, he wanted a more streamlined installation process. In the past, that wasn't the case for Carter's maintenance team. Since the lights were usually installed first, and then heating insulation and piping, removing a single bulb required quite a bit of handiwork. Putting in these new lights has helped make everything much faster.
"It only takes one person to put a new light in," said Carter. "The older ones took three people just to get one light out."
The construction quality of the bulbs was also important. Some companies had even sent lightbulb samples that arrived broken. These might have been shipping issues, but these problems were definitely concerning. He needed LED solutions for a school. There would be basketballs in the gyms and it's no surprise that "kids will be kids." That was another reason why LED Indy got the job.
Once the school corporation gave the green light and project quote, Carter went to confirm the scope of work with Trace Clifford, the president of LED Indy. After that, they were able to get going within a few weeks.
The Aquatic Center LED Lighting Installation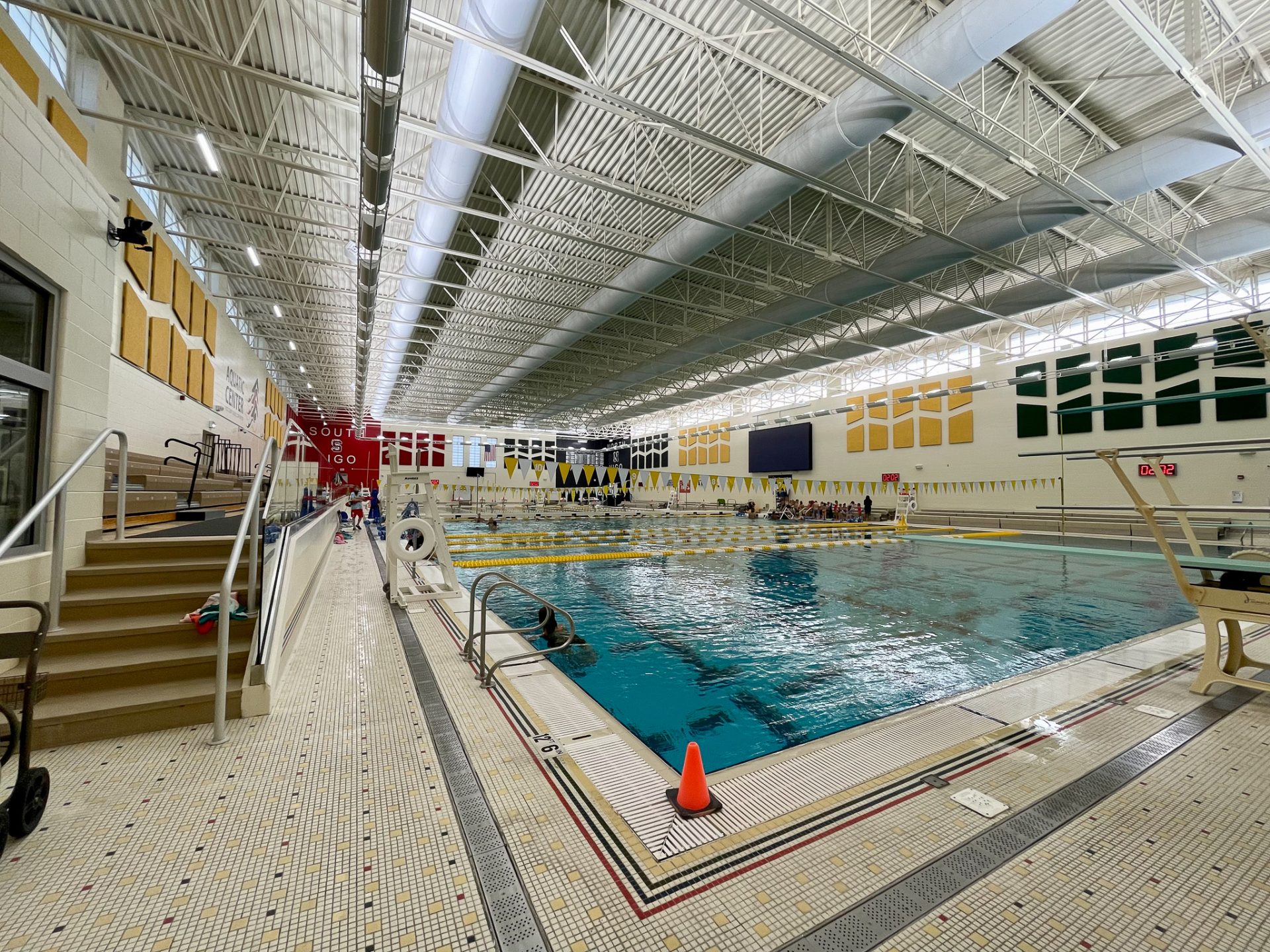 "A lot of people don't really think about what LED lighting can save," Carter said when wrapping up his project review. "There's a lot less heat that radiates from LED light, so you're using less HVAC cooling in areas."
The less energy the buildings are utilizing has a massive impact on their billing and the money spent on school. Vigo County makes a point to look at all operations costs, and LEDs are helping to keep that in check—both for their budget, as well as the swim teams.
"Each little thing affects swimming to shave off a fraction of a second," said Carter. "The temperature of the air and the temperature of the water can only have a 2-degree difference. Otherwise, it drastically affects the swimmer."
Interestingly, both of the project managers for LED Indy were swimmers themselves. So while Carter was open to having the installation process dictate when the swimmers could practice, the LED Indy team insisted on being more flexible. They understood the importance of working around practice and were happy to make it happen.
"Everyone knew what they were talking about and got along great," said Carter. "There was a lot of coordination between the installer and the director of the pool."
The installer worked around their schedule to get lights put in before meets, after swim practice, and before the kids arrived in the morning. All of these efforts really helped to minimize the potential disruptions to whoever still needed to use the facility.
A Brighter Future with Long-Term Savings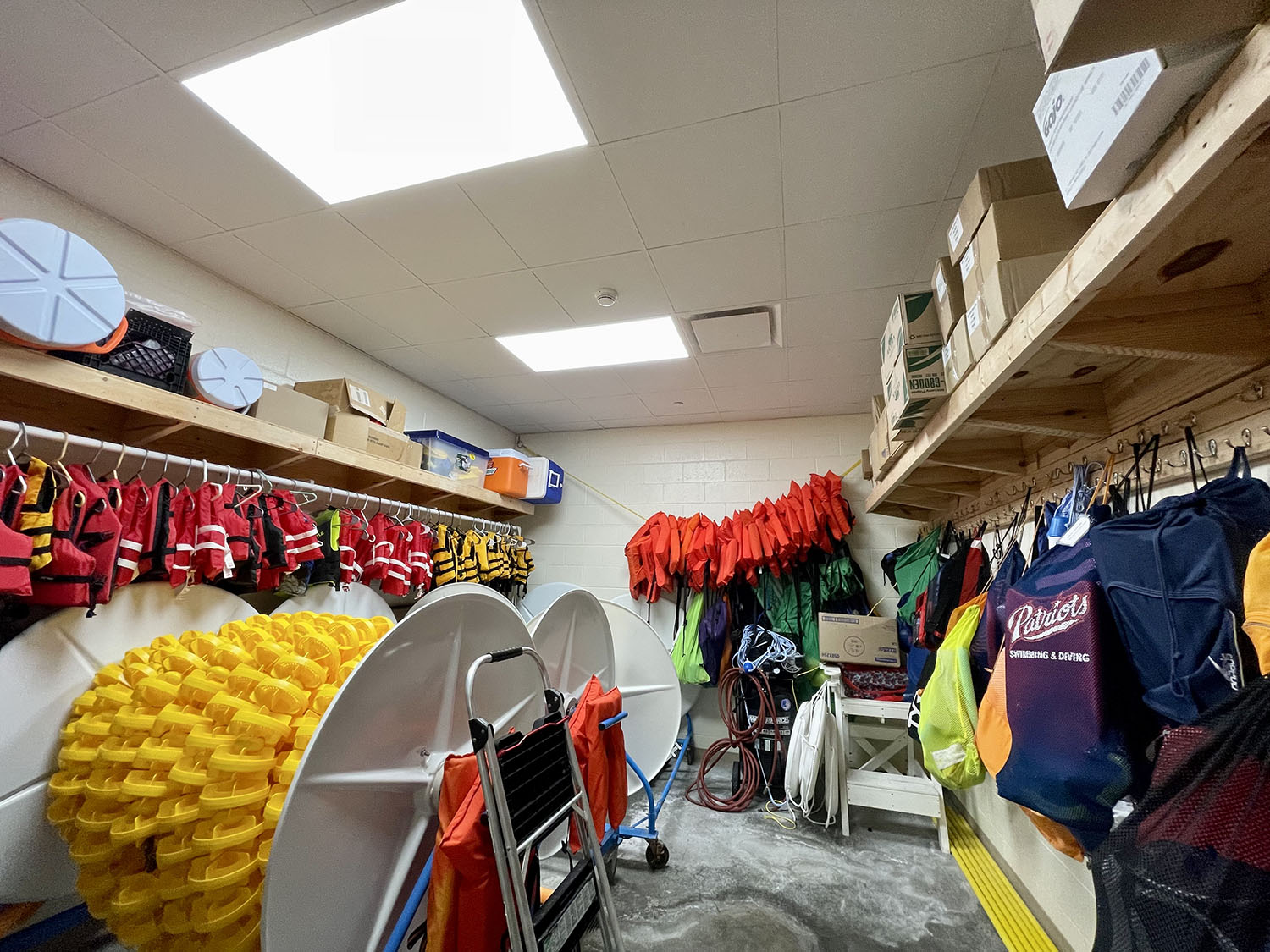 The aquatic center project included LED lights for indoors and outside. Hearing that the people in the community noticed a big difference right away has helped justify the investment even more. Everyone was clearly pleased with the improvements for both the interior and exterior light levels.
"People were saying that it was super bright outside and that they could see now," said Carter. "And the inside was literally night and day."
In that sense, there's both an immediate return on their investment. Even better, those benefits will get compounded with the massive savings on their energy bills. Their current average for those monthly cost savings is $5,000. And obviously, that's a great deal for their entire community!
Carter will also move forward to take advantage of the rebates being offered through Duke Energy. Each fixture that they switch out from fluorescent and other inefficient models will add up for a lump-sum check.
"LED Indy will give me that total number of fixtures we've installed and the exact bill," said Carter. "If we'd done these projects in-house, I'd have to count myself."
It's just another way the team has been able to keep the process smooth and simple. When it's all said and done, each of those one-time rebates for their buildings could total tens of thousands of dollars. They're already due to collect around $60,000 for the work done to date. Imagine recouping that kind of money for each and every building in their school corporation!
Vigo County will continue to invest in new LEDs until all of their buildings are updated, and Carter says they have another quote from LED Indy for an outside facility at a middle school that consists of 40-60 outside fixtures. It's certainly a long-term vision, but it will continue to pay off.
"I think Trace and LED Indy themselves have really tried to do what they can to meet our needs," said Carter. "So it makes sense to continue this partnership that we've started."
The lighting experts at LED Indy are always happy to talk with facilities managers, school corporations, and other sites looking for high-quality, cost-effective LED lighting solutions.